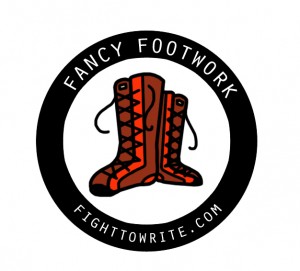 Ok, it is officially 10 days until SIWC, so I'm beginning a countdown on fighttowrite. Today, here are 10 openings I hope you'll love:
From "Ceiling," by Chimamanda Ngozi Adichie
When Obinze first saw her e-mail, he was sitting in the back of his Land Rover in still Lagos traffic, his jacket slung over the front seat, a rusty-haired child beggar glued to his window, a hawker pressing colorful CDs against the other window, the radio turned on low to the pidgin English news on Wazobia FM, and the gray gloom of imminent rain all around. He stared at his BlackBerry, his body suddenly rigid. First he skimmed the e-mail, dampened that it was not longer. Ceiling, kedu? I saw Amaka yesterday in New York and she said you were doing well with work, wife—and a child! Proud Papa. Congratulations. I'm still teaching and doing some research, but seriously thinking of moving back to Nigeria soon. Let's keep in touch? Ifemelu.
From "Housewifely Arts," by Megan Mayhew Bergman
I am my own housewife, my own breadwinner. I make lunches and change light bulbs. I kiss bruises and kill copperheads from the backyard creek with a steel hoe. I change sheets and the oil in my car. I can make a pie crust and exterminate humpback crickets in the crawlspace with a homemade glue board, though not at the same time. I like to compliment myself on these things, because there's no one else around to do it.
From "A Bridge Under Water," by Tom Bissell
"So," he said, after having vacuumed up a plate of penne all'arrabiata, drunk in three swallows a glass of Nero D'Avola, and single-handedly consumed half a basket of breadsticks, "do you want to hit another church or see the Borghese Gallery?"
 From "La Vita Nuova," by Allegra Goodman
The day her fiancé left, Amanda went walking in the Colonial cemetery off Garden Street. The gravestones were so worn that she could hardly read them. They were melting away into the weedy grass. You are a very dark person, her fiancé had said.
From "Gurov in Manhattan," by Ehud Havazelet
On a January Day, a little before nine in the morning, this was the situation: Sokolov, fifty-two, lecturer in Russian literature at Lehman College in the Bronx, two years post-transplant for leukemia, stood on Riverside Drive looking north to Canada, while Lermontov, his suffering aged wolfhound, tried with trembling exertions to relieve himself, looking south toward New Orleans. The day was cold, scrubbed clear, one of the January days in New York that slice through you and deride your hopes that winter will ever open its fist. The vet, a young woman with auburn hair braided and an althlete's bony litheness, the kind who caught Solokov's eye (the kind whose eye he used to catch—alas, no longer), told him dogs Lermontov's size were lucky to reach ten, eleven. If, as Sokolov said, he was thirteen, it was a miracle, and she smiled at the dog tenderly while Sokolov (she didn't know him) thought sourly that only the carelessly youthful and naïve (the healthy) could have the gall to think surviving is blessing enough.
From "The Sleep," by Caitlin Horrocks
The snow came early that first year, and so heavy that when Albert Rasmussen invited the whole town over, we had to park around the corner from his unplowed street. We staggered through the drifts, across the lawns, down the neat sidewalks where a few of Al's neighbors owned snowblowers. Mr. Kajaamaki and the Lutven boys were still out huffing and puffing with shovels. We waved as we passed, and they nodded.
From "Soldier of Fortune," by Bret Anthony Johnston
Her name was Holly Hensley, and except for the two years when her father was transferred to a naval base in Florida, her family lived across the street from mine. This was on Beechwood Drive, in Corpus Christi, Texas. Our parents held garage sales together, threw hurricane parties, went floundering in the shallow, bottle-green water under the causeway. If the Hensleys were working overtime and Holly was staying late for pep-squad practice—which meant grinding against Julio Chavez in the back seat of his Skylark—my mother would pick up Holly's younger brother from daycare and watch him until they got home. Sam had been born while they were living in Florida. ("My old man got one past the goalie," Holly liked to say. "There's nothing more disgusting.") In 1986, the year everything happened at Hensley house, Sam was three. Holly was eighteen, a senior at King High School, and I was a freshman, awkward and shy and helpless with love.
From "Foster," by Claire Keegan
Early on a Sunday, after first mass in Clonegal, my father instead of taking me home, drives deep into Wexford toward the coast, where my mother's people came from. It is a hot August day, bright, with patches of shade and greenish sudden light along the road. We pass through the village of Shillelagh, where my father lost our red shorthorn in a game of forty-five, and on past the mart in Carnew, where the man who won her sold her not long afterward. My father throws his hat on the passenger seat, winds down the window, and smokes. I shake the plaits out of my hair and lie flat on the back seat, looking up through the rear window. I wonder what it will be like, this place belonging to the Kinsellas. I see a tall woman standing over me, making me drink milk still hot from the cow. I see another, less likely version of her, in an apron, pouring pancake batter into a frying pan, asking would I like another, the way my mother sometimes does when she is in good humor. The man will be her size. He will take me to town on the tractor and buy me red lemonade and crisps. Or he'll make me clean out sheds and pick stones and pull ragweed and docks out of the fields. I wonder if they live in an old farmhouse or a new bungalow, whether they will have an outhouse or an indoor bathroom with a toilet and running water.
From "The Dungeon Master," by Sam Lipsyte
The Dungeon Master has detention. We wait at his house by the county road. The Dungeon Master's little brother Marco puts out corn chips and orange soda.
From "Property," by Elizabeth McCracken
The ad should have said, For rent, six-room hovel. Quarter-filled Mrs. Butterworth's bottle in living room, sandy sheets throughout, lingering smell.
Or, Wanted: gullible tenant for small house, must possess appreciation for chipped pottery, mid-1960s abstract silk-screened canvases, mouse-nibbled books on Georgia O'Keeffe.
Or, Available June 1—shithole.