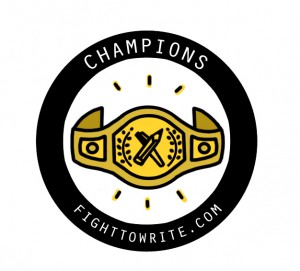 Ok, so here are the lovely words the judges had to say about "Big Red Schoolhouse," my poem that won the inaugural Magpie Poetry Award:
Magpie Award Winner

'Big Red Schoolhouse' by Ace Baker "The poem in 1st place, 'Big Red Schoolhouse, keeps us up to our elbows in the muck of the moment and the situation with the calving.  I felt I was physically at the other end of the rope in my new jeans, and my uncle was a world away from where I was at and right beside me at the same time, handing me that rope to tie around the calf's hocks to haul it out.  The poem is dynamic and dramatic in its details, as elegiac as it is realistic and beautifully sequenced through stanza and line.  I might even say choreographed, a choreographed chaos of feelings and action, dominated by a double dimension of obligation to the birthing and to the uncle.  Wonderful poem."

We couldn't agree more.  We were fortunate Ace was at the launch last night to receive his cheque for $500 and read his poem out loud.  We're looking forward to publishing it and the runners-up, who will each receive a cheque for $50,  in the Autumn issue of Pulp Literature.  The contest was judged blind, so the judges had no idea when they selected Ace's poem that it would end up published alongside his short story 'Victory Girl' in Issue 4.
My utmost thanks to George McWhirter, past Poet Laureate of BC, and Pulp Literature editors Mel Anastasiou, Jennifer Landels, and Susan Pieters  for their kind words.