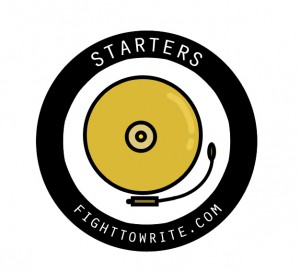 I'm making my way through my copy of The Best American Short Stories 2013, and I wanted to share with you some of the best opening lines.
Remember, an opening line can get YOU going on your own writing. The trick is NOT to read the complete story until AFTER you've written your own story. And once you've written your story, chop off that opening line (or paragraph even) and see what you have. More often than not, the idea you come up with will be FAR different from the story the author told. Let's get to those starters:
From "Miss Lora," by Junot Diaz:
Years later, you would wonder if it hadn't been for your brother, would you have done it? 
From "The Third Dumpster," by Gish Jen:
Goodwin Lee and his brother, Morehouse, had bought it at auction, for nothing.
From "Referential," by Lorrie Moore:
For the third time in three years, they talked about what would be a suitable birthday present for her deranged son.
Try this:
Do I even have to say it? Choose your favourite line from the three above, start by writing it down, and KEEP GOING!