Last night, I finished work at 6:30, flew across the Port Mann bridge, and made it to the VCon book signing event by 7:00. VCon looked like a bar scene from Star Wars–many interesting characters, and these ones weren't in between pages of a book!
Wandering the halls were fantasy and sci-fi characters, steampunkers, and …two of the editors from Pulp Literature, Jen Landels and Sue Pieters! They were launching issue #4 of their amazing lit journal, the one that has my story "Victory Girl" and my poem "Big Red Schoolhouse" in it!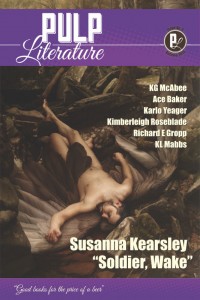 The journal is amazing, a very professional publication, and their comments about my works were more than generous:
These contests were judged blind, so our judges had no idea Ace Baker's story 'Victory Girl' was scheduled for this issue. The fact his poem landed in first place is not just a stroke of synchronicity, but a testament to his talent for both prose and poetry. You can read his full bio in the page preceding 'Victory Girl.'
          And here's part of that bio I wrote:
 Imagine that an English / Ukrainian writer originally from a Saskatchewan town with a French name (Bienfait–population 800) would one day pen a story about a Japanese girl in British Columbia and impress a Scottish Canadian writer and a Mexican / English American writer (Jack Whyte and Diana Gabaldon) who judge the annual Storyteller contest. THAT'S what it means to be a Canadian writer!
          In addition to making my work look beautiful (Melanie Anastasiou even created an illustration for "Victory Girl"), they also printed the final poetry judge's comments. George McWhirter, a past Poet Laureate of Vancouver, said, of "Big Red Schoolhouse,"
The poem in 1st place, 'Big Red Schoolhouse,' keeps us up to our elbows in the muck of the moment and the situation with the calving. I felt I was physically at the other end of the rope in my new jeans, and my uncle was a world away from where I was at and right beside me at the same time, handing me that rope to tie around the calf's hocks to haul it out. The poem is dynamic and dramatic in its details, as elegiac as it is realistic and beautifully sequenced through stanza and line. I might even say choreographed, a choreographed chaos of feelings and action, dominated by a double dimension of obligation to the birthing and to the uncle. Wonderful poem.
          Considering the fact that I have a few contest wins but no books under my belt (yet), I found it amazing how the staff of Pulp Literature treated me and my work–careful edits, a beautiful illustration, and kind comments from the poetry judge and the editors themselves.
         If you are looking for a home for your "darlings," I can think of no better place to send them than Pulp Literature. (They're accepting submissions until November 1st…hint, hint. Oh, and while you're there, on their site, you might want to pick up copies of AT LEAST issue #4…ahem, ahem.)