5

Days Away: 5 People to say TY to at SIWC!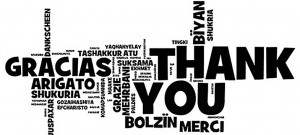 5 days away–can you believe it? It's going to get crazy really fast, really soon! And at SIWC, it can get crazy too–rushing off to pitches, blue pencils, sessions, trying to take in all you're being taught, and going from one thing to the next to the next, until, at the end of the day, you're exhausted…in a good way.
But take time at the conference to thank a few people. It doesn't take much time, it means a lot to them, and it's an opportunity for you to slow down and smell the roses too. Here are 5 to think of:
1. Leaders. I know if I mention some leaders and not others, I could get myself into trouble, but Kathy Chung and kc dyer deserve special thanks. These two work all year long to pull the conference together, and imagine what that means–the facility, food, and family of 800 writers; registrations; attending other events (like Word Vancouver) to get the word out about SIWC; dealing with writing contest entries and the contest anthology; vendors; creating a silly writing contest and asking for draw prizes and writing prizes and silent auction items; lining up keynote speakers AND writers who don't mind being TEACHERS, which is what makes this conference special. They also update the web site and stay in touch with a newsletter and social media so people can set up pitches and blue pencil appointments, oh, and they make sure people new to the conference can be eased in without overwhelming them–the beginning orientation session is a comfort! That's a piece of what they have to think of.
2. Presenters. At other "writing" conferences I've been to, the guest speakers at the sessions get up to read from their work, and you listen, and then you clap. And they leave and you leave. At SIWC, the writers TEACH their craft, and they live with you in the Sheraton Hotel for three days. It's a friendly environment, and the presenters, some whom have millions of copies of their books in print, still take time to connect with those who attend. Amazing!
3. Other writers. So you're a writer–you're used to being in some spot, alone, with your laptop or journal, or if you write in a café, you're used to being left alone to do what you do. And then you make the move to spend time with 800 other writers who have also taken the leap to move out of their comfort zones and spend three days with other people just as crazy as they are. Take time for each other.
4. Volunteers and the hotel crew. Imagine helping 800 people for three days. There are questions you've answered a million times, small emergencies and big emergencies, and the little task of serving food for those 800 people who are a little crazy and very hungry after rushing everywhere all day.
5. Yourself. You've made an investment in your writing and in your life as a writer. You've decided to come to the conference to learn and get inspired and you're here–you're actually here. Take a moment to thank yourself for the investment of time, money, and energy. Charge those life batteries, and you'll find that, a year from now, you'll be ready to return for another go at it–or a fifth, or a twelfth…or…well, some of us build our yearly schedules around it, let's just put it that way!