10

DAYS UNTIL SIWC

The countdown is on! 10 days from now, I'll be at SIWC—the Surrey International Writers Conference—along with about 800 other writers. That means I'll be going crazy with anticipation until then. One way for me to cope is to do a top ten for you, starting with…
10+ AGENTS who are listening to pitches at SIWC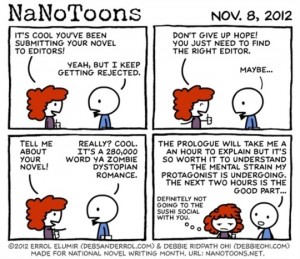 Laura Bradford…looking for Romance (historical, romantic suspense, paranormal, category, contemporary, erotic), urban fantasy, women's fiction, mystery, thrillers and young adult as well as some select non-fiction.
Susan Brower… specifically looking for well-written contemporary romance, suspense and thrillers, cozy mysteries, and women's relationship fiction.
Carolyn Forde… wide-ranging tastes – from literary to commercial fiction, from serious narrative non-fiction to pop-culture and humour.
Mandy Hubbard… joined D4EO Literary Agency in February 2010 as a Young Adult and Middle Grade specialist, and has since expanded to include romance, new adult, and women's fiction.
Rachel Letofsky … looking for young adult and new adult fiction, literary fiction and non-fiction that reminds us about the joys and oddities of life.
Don Maass… A literary agent in New York, Donald Maass and his agency sell more than 150 novels every year to major publishers in the U.S. and overseas.
Taylor Martindale… looking for young adult fiction, literary middle grade fiction, women's fiction, and children's non-fiction projects. She is interested in finding unique and unforgettable voices in contemporary, fantasy, historical and/or multicultural novels.
Lisa Rodgers…fantasy, sci-fi, romance, YA, and middle grade.
Kris Rothstein… actively seeking middle grade and YA fiction. She looks for quirky and funny stories and for complex and memorable characters. She is also looking for literary fiction for adults but not commercial/genre fiction and is actively looking for narrative non-fiction in areas like history and pop culture.
Peter Rubie… In non-fiction he specializes in narrative non-fiction, popular science, spirituality, history, biography, pop culture, business and technology, parenting, health, self help, music, and food. He is a "sucker" for outstanding writing. In fiction he represents literate thrillers, crime fiction, science fiction and fantasy, military fiction and literary fiction, middle grade and some boy oriented young adult fiction.
Nephele Tempest… literary/commercial fiction, women's fiction, fantasy, science fiction, romantic suspense, paranormal romance, historical romance, contemporary romance, historical fiction, young adult and middle grade fiction.
Pam van Hylckama Vlieg… a passion for genre fiction as well as MG, YA, and New adult fiction.
Gordon Warnock… nonfiction, high concept commercial fiction, literary fiction, new adult, contemporary YA, graphic novels.
Michelle Wolfson… mainstream, mysteries, thrillers, suspense, chick-lit, romance, women's fiction, and young adult.
Here is a link to FULL AGENT BIOS, and please remember to come back tomorrow to see what our list will be all about on day NINE of the countdown!