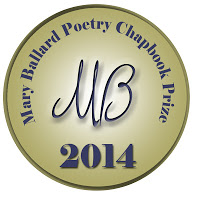 Ok, for the past month I've been vacationing in Southeast Asia–Thailand, Malaysia, and Singapore–and I just got back to Vancouver last night and already I had some good news waiting for me…
          I made the SEMI-FINALS for the Mary Ballard Poetry Chapbook Prize, put on by Casey Shay Press! This is a BIG deal for me because…
          1. The contest itself is free, so they get MANY entries. All of those were narrowed down to 161 books in the quarter-finals, and now, in the semi-finals, the list has shrunk again to the top 41! It's getting super exciting and three finalists will be chosen from those in the next two weeks or so. Then… gulp… ONE winner!
          2. Their chapbooks are beautifully printed. Seven Times to Leave and Uncommon Clay, their winners from the past two years, have a high quality of poetry and gorgeous covers, too.
          3. The winner gets his or her book printed, and I'm really hoping to have a collection of poetry I can have on offer for my readers. Family, friends, tweeps, Writing 12 aficionados, students past and present, and colleagues have been very supportive. After winning both the SIWC and PNWA poetry contests,  I feel the quality of my poetry is now ready for book publication. This would be a collection I would be more than happy to let people know about!
          While I would be doing-backflips-through-flaming hoops excited (!) to win this one, I also want to encourage other poets to keep this contest on their "submit to" list. I know it'll make the contest even more difficult to win in future years, but I do feel that the fine folks at Casey Shay deserve the shout out for what they're doing. The story behind the ORIGINS of the contest is also inspiring, and you can find it here: The Story of Mary Ballard
          Well, it's 5:06 a. m. here, so, I think I'll sign off for now. Please keep your fingers, toes–anything really–crossed for me as they select their three finalists in the coming few weeks! Love always, from